Discovery Delta
From SimCity Wiki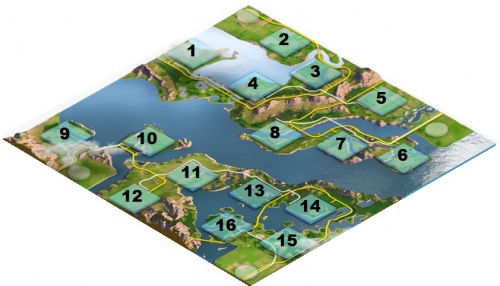 Discovery Delta is a wetland region with a host of rivers, creeks and ponds.
Cities in Discovery Delta are divided into 4 group.
Although it has 16 cities and 4 great works sites, they exist in clusters of 4 cities and a single great works site. Only pollution and City Hall/ Specialization HQ unlocks are shared outside of clusters.
Cities
1. Washtub Fields - has large spaces for players to expand. Massive crude oil deposits allow players to grow their city into an oil-driven metropolis. River access in this site is ideal for shipping petroleum resources to the Global Market.
2. Spooner Plains - mother lode of crude oil is ideal for a player desiring a petroleum empire. River access provides necessary infrastructure to ship oil, plastic and fuel to the Global Market.
3. Kazoo Pass - With enormous reserves of coal and ore, Kazoo Pass is the perfect location for a magnificent mining empire.
4. Jugband Hills - is located at the base of Washboard Ridge. Jugband Hills hold valuable raw ore and coal deposits beneath the rolling hills. Players who build a mining business can ship their metals out from the shoreline to the Global Market.
5. Rising Sun Valley - is the ideal city for players who desire wide open spaces. A large crude oil deposit in this site welcomes players to start a Drilling business and a small amount of coal provides a source of coal for a Coal Power Plant.
6. Barleycorn Point - is located in the middle of the Rye River. Barleycorn Point features fine coal and raw ore deposits for mayors who want to start a mine. Views along the river lend a scenic setting for high wealth homes and tourists. Electronics, Gambling and Culture cities are all viable at this location.
7. Stackolee Ravine - has creeks running through the city. Players can expect to find rich deposits of coal and some crude oil in the 5 sections of this site.
8. Cotton Bend - has streams of Rye River running through the middle the city. Players will need to build a bridge across Cotton Bend to reach the large quantities of coal and ore.
9. Sawyer's Crossing - is an island located across the Sawyer Creek. It has decent amount of coal and raw ore deposits for a reliable income.
10. Huckleberry Island - is a island with a crecent-shaped bluff. The base of Huckleberry island contains extremely rich coal and raw ore deposits. This area is perfect for a magnificent Metals city.
11. Thatcher Overlook - has rich deposit of coal and minor deposit of ore. Thatcher Overlook allows the player to start a smelting business. The lower area of site has a shoreline ideal for trading.
12. Harper Plains - located in the shadow of the Big Jim mountains, Harper Plains is a flat area with no hills or rivers. This inland city has plenty of coal for players to specialize in a Mining city.
13. Cottonwood Forest - is located in a dense forest that surrounds Miller's Pond. Spectacular coal and raw ore deposits are under the forest grounds. The natural splendor of the pond and riverbank provide great backdrops for luxurious high-wealth housing and tourism cities specialized in Gambling or Culture.
14. Willow Woods - is a city deep within a huge forest. Willow Woods contains a large deposits of ore and coal. A city specialized in mining would be appropriate for this site.
15. Honeysuckle Marsh - is a heavily wooded area with plenty of water. Honeysuckle Marsh has enough crude oil and coal deposits to make developing this site profitable.
16. Magnolia Wetlands - contains a swamp that extends into the middle of the city. The excellent views and a nearly endless water supply make this an ideal location for the most expensive real estate. A city specialized in Gambling, Culture or Education is perfect for this site.
---
---